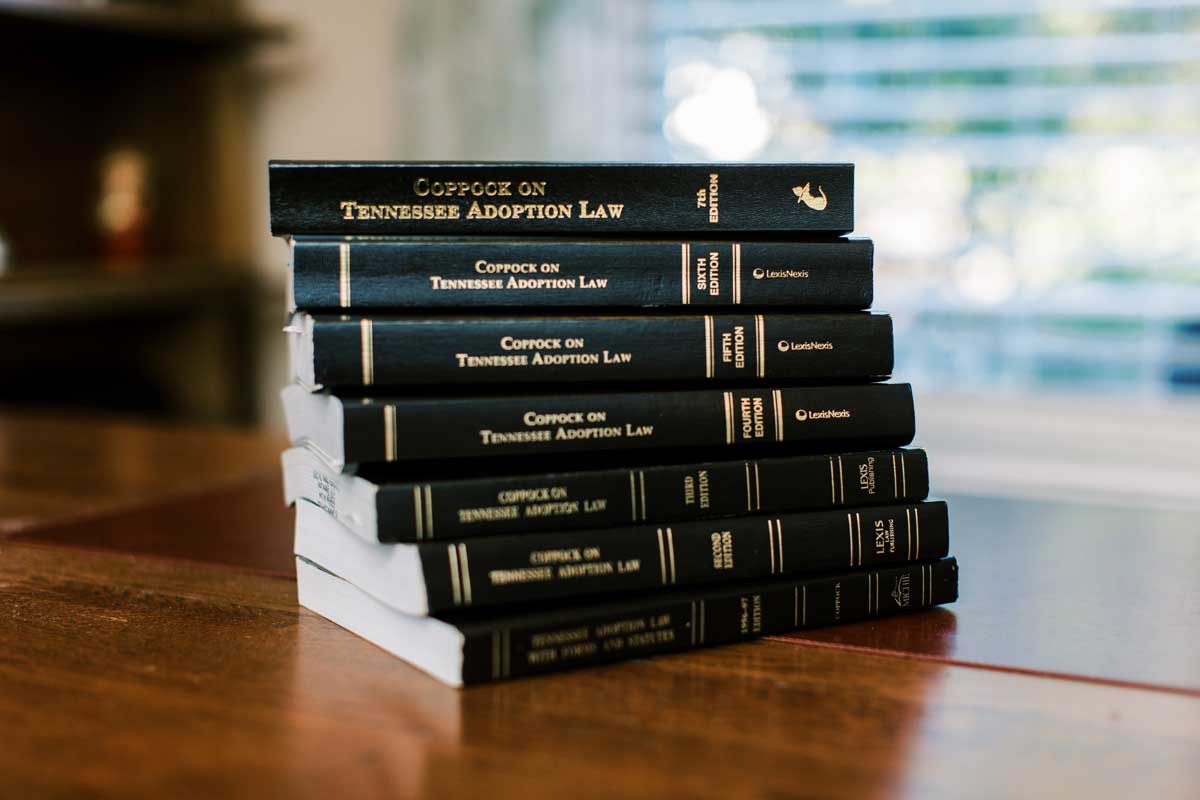 Coppock on Tennessee Adoption Law
The Leading Book on Tennessee Adoption Law
Dawn is the author of Coppock on Tennessee Adoption Law with Forms on CD, 7th Edition, w/ 2018 supplement published by Celtic Cat Publishing, 2017. Author of Coppock on Tennessee Adoption Law with Forms and Statutes, 2nd, 3rd 4th, 5th and 6th Editions, published by Lexis Law Publishing in 1998, 2000, 2003, 2005 and 2011.
This is both the leading and the only modern Tennessee law book on the topic of adoption and termination of parental rights. It is used by attorneys and judges statewide and cited as authoritative by the Tennessee Appellate Courts.
You may purchase a copy of the book from the publisher at https://celticcatlaw.com
Many Tennessee public and law libraries also have copies of Coppock on Tennessee Adoption Law, usually in the reference section.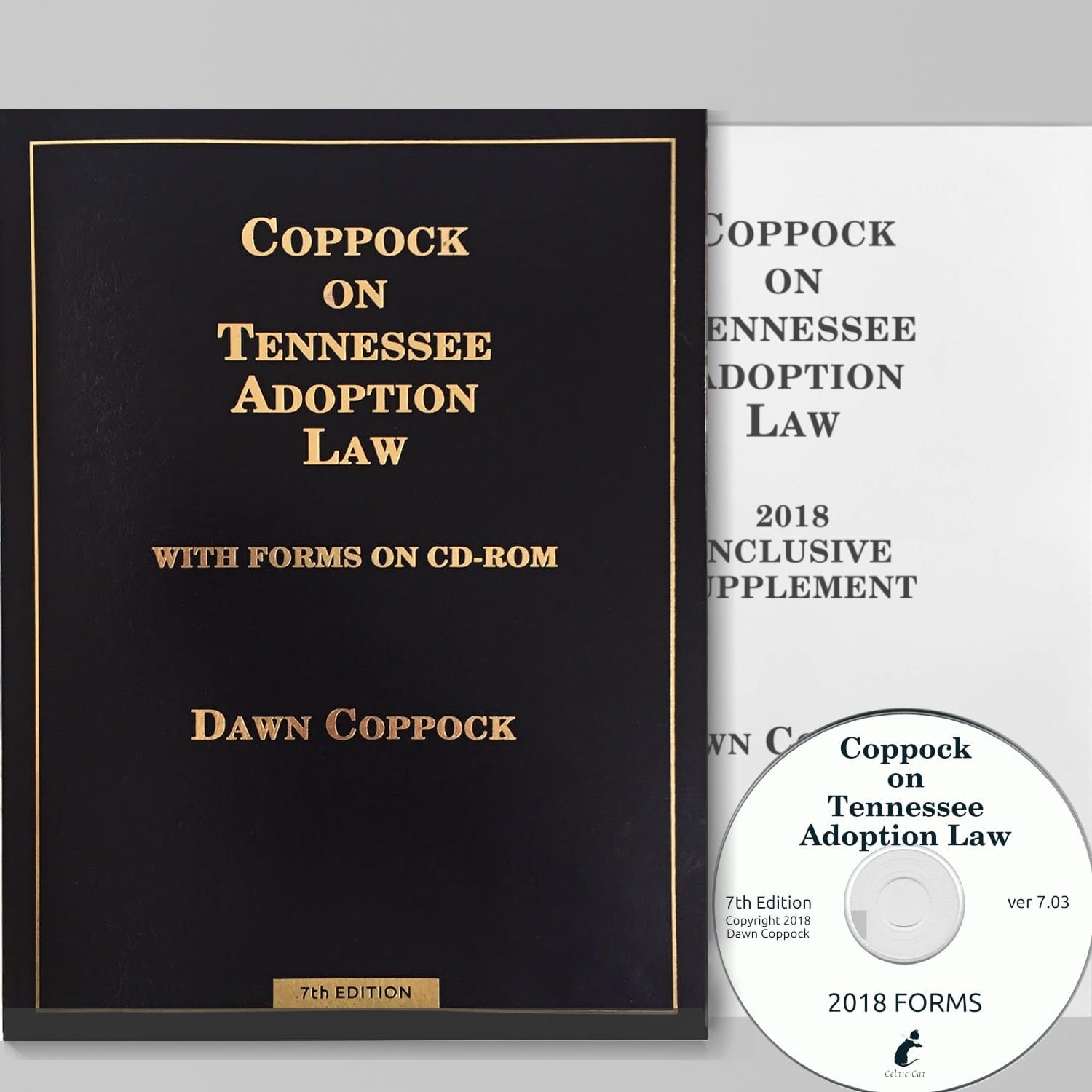 What Does the Book Cover?
For a fraction of the fee for one adoption case, a beginner can achieve basic competence, one experienced practitioner can look over the shoulder and into the forms file of another, and judges can get it right the first time. Children and families are worth cracking a book over. This is your book.
New: Includes 2018 FIAA Supplement:
162 pages
14 updated checklists for counsel, judges, and agencies
24 updated forms
17 chapters updated
Revised CD-ROM with all the updated forms and checklists
The "First in Adoption Act" (FIAA) is effective July 1, 2018 and includes significant changes to termination grounds and more: 
Changes to Termination Grounds

Abandonment Ground: Willfulness
Abandonment Ground: Cases Involving a Total Failure to Support or Visit
Abandonment Ground: Amended Pleadings
Abandonment Ground: Suitable Home
Persistent Conditions Ground
Severe Child Abuse Ground

Putative Father Changes
New Surrender Form
Other Changes

Venue: FIAA expands venue where termination and adoption cases may be filed
Residency: FIAA also expands the jurisdiction of Tennessee courts to hear adoptions
New definition of "relative" in the adoption code
New rules for Initials and Pseudonyms
New rules on access to files
Every chapter and form is updated and revised.
Big changes in the law include:
Narrowing of the rights of unwed fathers and expansion of process for proceeding without them
New case law on due process and notice
New denial of paternity procedure for legal fathers
Surrender revocation decreased from 10 days to 3
New generalized unfitness ground for TPR
More proof required for abandonment by failure to support
New right/obligation to check agencies work
When non-residents can finalize adoptions in TN
Greatly expanded Appellate review process
Always more practical than academic, Coppock on Tennessee Adoption Law is full of forms and checklists and now includes:
More trial tips and tactics, including use of experts and discovery
A thumbnail evidence sheet for your trial notebook
More on dependence/adoption interface
More on paternity/adoption interface
New chapter about unwed fathers
New ICWA chapter
New Servicemembers chapter
New materials about immigrant children
New materials to evaluate and negotiate adoption assistance
All new diagrams on options and processes
Including a chart to be sure you always use the right TPR process for your case
The best grounds checklist ever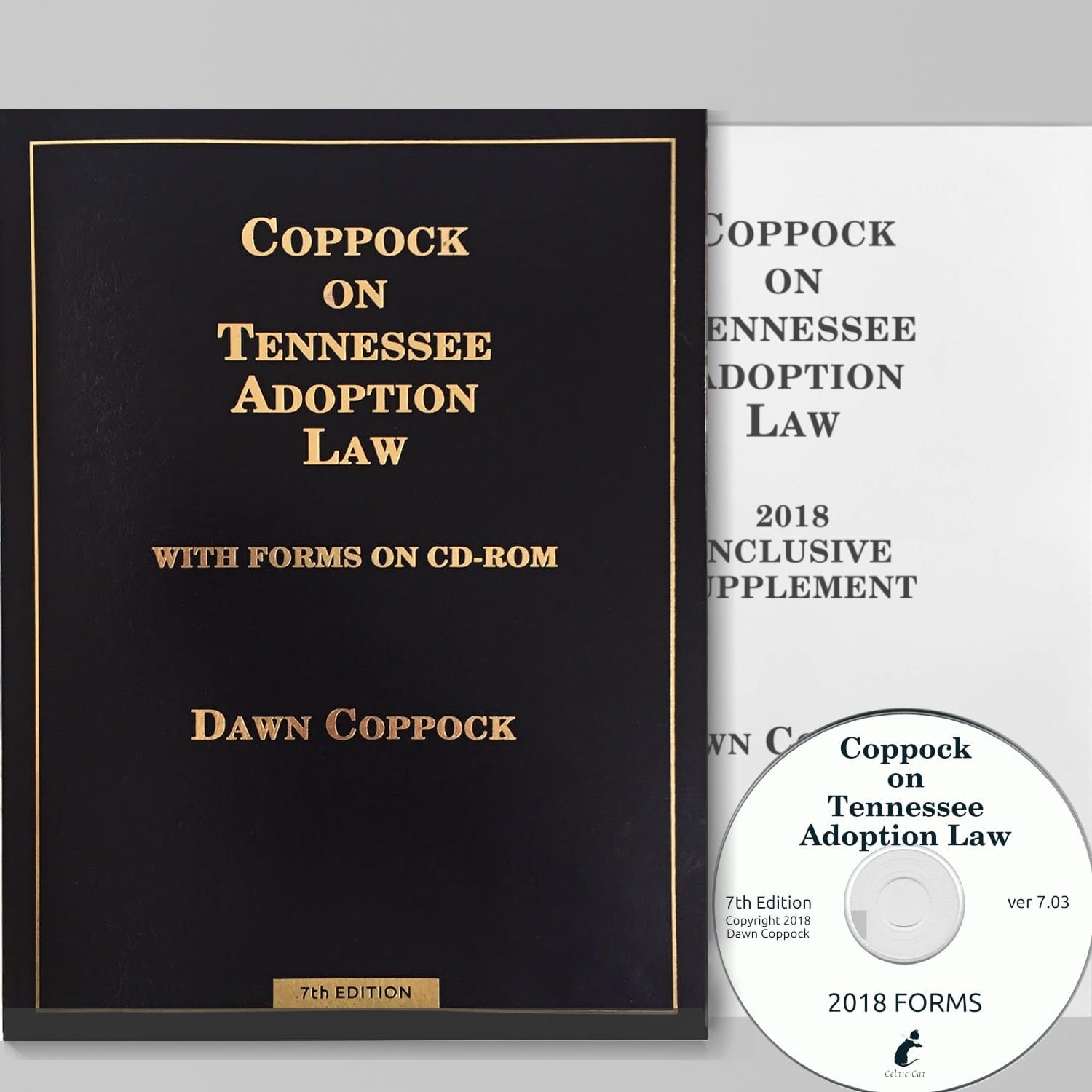 Helping Families and Professionals with Adoption Law and Cases